Powered by:
Harvey Kalles Real Estate Limited, Brokerage
Well then; I now do plainly see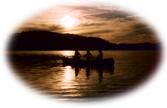 This busy world and I shall ne'er agree;
The very honey of all earthly joy
Does of all meats the soonest cloy,


And they (methinks) deserve my pity,
Who for it can endure the stings,
The crowd, and buzz, and murmurings


Of this great hive, the city.
Abraham Cowley, The Mistress
The more hectic life in the city becomes, the more city dwellers are drawn to the peace and tranquillity of the untouched wilderness. It is the lure of the pastoral. The select lots of Water's Edge are an exceptional opportunity for you to create a life for yourself "far from the madding crowd."
Water's Edge is a unique secluded area, which offers exclusive access to a deep, natural spring-fed lake (over 100 ft in places!) filled with speckled trout, bass and white fish. Each property has a variety of shorelines, from rocky outcrops to sandy beaches, with its own medley of plants and wildlife.
Canoe past a cove where loons nest; pause to look up at the osprey soaring overhead. Stay still and quiet while you watch deer steal gracefully to the water's edge to refresh themselves in the crystal clear water. And at night, when you step outside, you will see stars you haven't seen since the last time you were in a planetarium.
All this untamed nature lies waiting for you – it's equidistance to the Muskoka's from Toronto, one hour from Ottawa and two hours from Montreal. Water's Edge is a departure from the subdivision concept of many rural or cottage developments. Each tract offers many acres, assuring a low density population. This, along with environmental protection covenants, preserves both the environment and your investment. In fact, Water's Edge includes a restriction that only one home may be built on each property within the first 15 years. These are estates, not lots to be fragmented like shards of glass.
Create your dream estate at Water's Edge. We can help you build a log home, or you can design and build a custom dwelling. The choice is yours. Over the years, Water's Edge will become a part of you; and you, in turn, will become as much a part of Water's Edge as the loons and the deer.
"This is the season where people are glad to exchange the monotony of city life for the quiet retirement of the country, where the busy clatter of the street and the suppressing warmth of mid-day agitates a migratory feeling toward the pure sweet rural air. Mulgrave has its quota of visitors at such seasons, and no wonder for a more delightful spot could not be desired by the most fastidious pleasure-seeker."

– Scribus Mulgravi,* The Post, 1896
*Scribus Mulgravi (The Mulgrave Writer") was the pen name of a regular contributor to The Post in the late 19th century.
Back to TheLingRegistry HomePage
Back to GreatCanadianCountryEstates Home
Telephone: 416.441.2888 x 522 Cellular: 416.809.0909 /1.888.232.2088
Facsimile: 416-441-9926 Direct Fax: 1(866) 556-0823
Address: 2145 Avenue Road, Toronto, Ontario M5M 4B2 Canada